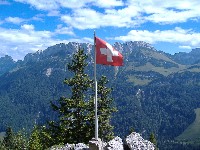 The Lucerne University of Applied Sciences and Arts consists of six schools. Programs in building technology, computer science, and electrical engineering technology are of particular interest to Purdue Polytechnic Institute students.

The University is rooted in the lively cultural environment of Lucerne, a city celebrated for its appreciation of music and arts. Lucerne is called the "Heart of the Country", thanks to its location and picturesque views. The city is best-known for the wooden bridge spanning the river, connecting to the city. The landmark, known as the Chapel Bridge, is the most famous and world's oldest bridge, dating back to the 14th century.
Watch Purdue Industrial Engineering Technology major Laura Kuhn talk about her experience as an exchange student at Lucerne University of Applied Sciences.
For more program information, please visit the
program website
.