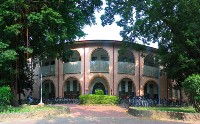 Established in 1931 as Tainan Technical College, NCKU has grown into a comprehensive university serving 21,000 students through nine colleges. The Department of Computer Science and Information Engineering (CSIE) emphasizes teaching, research and development in computing software and hardware engineering and works closely with the industrial, business and government sectors in Tainan.
Tainan is the oldest city in Taiwan and was the capital during imperial times. It is famous for its temples, historic buildings and snack food. The city is currently the fourth largest city on the island with a population over 760,000.
For more program information, please visit the
program website
.