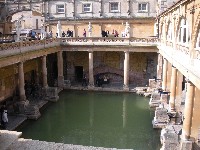 The University of Bath is consistently ranked amongst the top UK universities and offers a full range of courses in five faculties. The university is set amongst green fields overlooking the historic city of Bath a mile away.
The city of Bath is located approximately 90 minutes by train southwest of London. It is considered one of the most beautiful cities in Europe and has received World Heritage status from UNESCO. For more than 2000 years Bath has been famous for its natural hot springs. The Romans first developed the site when they built a complex of baths and a temple to the goddess Minerva. In the 18th century many of the city's buildings were constructed; this Georgian architecture gives Bath its distinctive appearance and historical feel. The city is rich in museums and sites of interest and has many parks, gardens, and green spaces.
For more program information, please visit the
program website
.