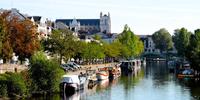 The IES French Language Immersion & Area Studies Program has two important goals: to improve your written and verbal proficiency in French through language and area studies courses, and to introduce you to contemporary France and its role in the European Union. Nantes offers wonderful food, outdoor spaces, and stunning modern and classic architecture. Nantes is the ideal place to improve your French—with few anglophones and a focus on full immersion, you'll have the opportunity to fully integrate into French society and function completely in French.
Located on the Loire River, Nantes—France's sixth largest city—has all the amenities of a big city: world-class museums, breathtaking cathedrals, a great public transportation system, and even its own château. But the best thing about Nantes for study abroad? It's small enough to feel like home.
Before long, you're blending in with local residents and university students, and saying "bonjour" to the shop keepers you pass on your way to class every day. This livable, accessible, and exciting city was the official EU 2013 Green Capital. It's something to celebrate when you study abroad in Nantes and can get around easily on the bus, tram, or by foot.
The IES center occupies the fourth floor of a 19th century residential building located a few blocks from the historic center of Nantes. Founded in 1963, the IES Nantes program enjoys a close relationship with the University of Nantes, and students have many opportunities for interaction with faculty.
For more program information, please visit the
program website
. This program is sponsored by:
IES
.