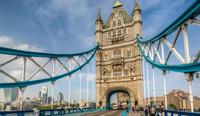 London is an ideal place for study abroad students to live and learn in England. Through the IES Abroad London Direct Enrollment program, students have the rewarding experience of taking a full course load alongside British peers.
Queen Mary, University of London (QMUL) offers the best of two worlds: the bustling city of London and a self-contained, thriving campus. Located in the diverse East End, QMUL maintains its own identity and community, and yet QMUL students are never more than a convenient Tube ride to the center of London. It's a large institution (more than 25,000 students) and has a long history of internationalism. Today, nearly 30 percent of the student body comes from outside the UK with more than 160 countries represented in the international student population.
The Queen Mary Students' Union hosts over 100 clubs and sponsors a wide range of social and sporting activities.
For more program information, please visit the
program website
. This program is sponsored by:
IES
.