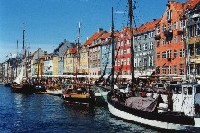 Copenhagen Business School is the largest business school in northern Europe with an international student body that favors early networking with like-minded peers. The academic program aims to develop strong links between contemporary research and the active business community. The atmosphere is intellectual, but always in a way that keeps business realities firmly in focus.
Copenhagen, the capital of Denmark, has a rich history influenced by more than 800 years of Danish settlement. Copenhagen is rare in that it combines the economic, scientific, and cultural life of a modern city with a relaxed, small town atmosphere. Copenhagen is the seat of Danish Parliament, the central government, international organizations, research libraries, national museums of art and history, and the national media. It is the center of musical and cultural life. Students may take advantage of the city's superior transportation system to get around town. Trains and buses run day and night. Travel is easy from Copenhagen and participants can take a cruise to Oslo, Norway or a train to Berlin, Germany.
For more program information, please visit the
program website
.