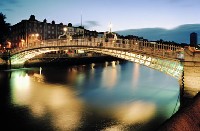 Trinity College Dublin is the single college of the University of Dublin, founded by Queen Elizabeth I in 1592. A long distinguished university when it comes to academics and scholarship, its history is linked with that of Ireland in terms of politics, letters, and social change. Currently, Trinity holds the prestigious status as one of Ireland's oldest and finest higher education institutions.
As a 400-year-old university, Trinity College Dublin (TCD) has a long history of high academic quality and scholarship. It is Ireland's oldest and one of its finest higher education institutions. TCD also houses The 7th Century Book of Kells, a masterful example of an illuminated manuscript, in its own climate controlled archive in the university's old library and open to the public during the day.
In recent years, the college has increased its enrollment and diversity. The current student population represents 70 countries over six continents and totals more than 16,000 students.
TCD is located in the historic heart of Dublin, near St. Stephen's Green. The campus covers about 40 acres of buildings and green space. Trinity College Dublin is about a 20-25 minute walk from the IES Abroad Dublin Center.
For more program information, please visit the
program website
. This program is sponsored by:
IES
.