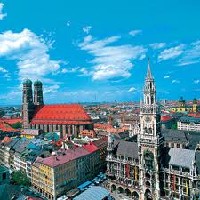 The Munich University of Applied Sciences is the largest university of its kind in Bavaria and the second largest university of applied sciences in Germany. The university offers a unique study experience, characterized by a practical approach to teaching and research and close contacts to business and industry. All professors have a minimum of five years' professional experience in their respective fields and know-how to prepare students for successful careers. The school's location in a leading European city affords fantastic academic, cultural and professional opportunities for students.
Munich University of Applied Sciences, California Polytechnic State University and the Strascheg Center for Entrepreneurship are the institutions behind this very exciting international summer study abroad program that offers a unique and interesting take on the integration of diverse fields as automotive and electrical engineering, management and entrepreneurship.
Munich University of Applied Sciences offers a five-week summer program designed for junior and senior Technology and Engineering students. Participants gain the following skills:
Completion of 6 credit hours

Laboratory experiments and simulations

Field trips to research centers

German language and culture instruction

Excursions
For more program information, please visit the
program website
.