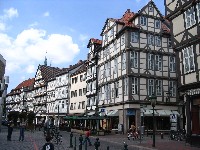 Freiburg is home to approximately 220,000 people and is a hiking and skiing destination in the heart of the Alps. Located in southwestern Germany, Freiburg is only 14 miles from the French border and 40 miles from the Swiss border, making weekend excursions easy to plan. The Black Forest and Upper Rhine Valley surround Freiburg im Breisgauis. For years, Purdue University students have earned credit toward their degree at this research university to study the arts and sciences.

This program is offered to a consortium of students from Purdue University, Michigan State University, the University of Iowa, the University of Michigan, and the University of Wisconsin Madison. As part of a consortium students will have the opportunity to:

Build German language skills at Albert-Ludwigs-Universitat in Freiburg alongside other students from around the globe.
Earn direct credit from the College of Liberal Arts while gaining international experiences.
Participate in student groups, recreational sports, and weekend excursions to enhance language skills and experiences abroad.
Albert-Ludwigs-Universität was founded in 1457 and is located in the heart of downtown Freiburg. The university currently has an enrollment of about 24,000 students.
The AYF Program Center is just a block from the university library where students will regularly meet with the director and assistant director of the program to improve their fluency in the German language and adjust to the German culture and education system.
The AYF program is administered by the International Academic Programs (IAP) office of the University of Wisconsin at Madison. After a Purdue student is approved for this program and nominated to UW-Madison, she will work closely with IAP advisor for this program. More information about this is provided to students after they've been accepted to study abroad by Purdue.
For more program information, please visit the
program website
. This program is sponsored by:
University of Wisconsin (CIC-SPA)
.