Peer Advisors
Who better to ask about studying abroad than a fellow student who's been there, done that? Visit the Study Abroad Office in Young Hall, room 105 to meet our Peer Advisors. Call 494-2383 for their specific work hours.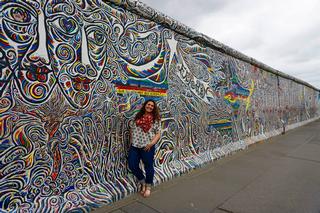 Name:
Sara Poradish
Major: Mechanical Engineering
Program: Global Leadership in Peru for Freshmen, Summer in Stuttgart, GEARE Karlsruhe
Location: Various cities in Peru; Stuttgart, Germany; Karlsruhe, Germany
Why do you recommend study abroad to Purdue students??
Studying abroad is a great way for students to learn about the world, learn about themselves, and have a great time doing it. After studying abroad, I became much more confident, much more empathetic, and a lot more understanding of the world around me. Study abroad is a great way for all Purdue students, regardless of major, to have a lasting and meaningful international experience.
How would you summarize your study abroad experience in a few sentences??
I am so glad I decided to study abroad. I made friends from all over the world, traveled to some of the coolest places on earth, and I got class credit to have the time of my life.
Name:
Anissa Orozco
Major: Human Relations & Communications
Program: Summer in Florence; Sydney Internship Program
Location: Florence, Italy; Sydney, Australia
What were some of your best memories while studying abroad??
During my time in Australia, I had the opportunity to volunteer at a networking event right across the water from the Sydney Opera house during the famous Vivid light show. The building I was in had a wall made entirely of glass and an incredible view of the opera house, and I was able to listen to live music and chat with people from all over the world. In Italy, there was an afternoon that a group of Purdue students decided to buy several (authentic) pizzas and climb to the top of a hill to Piazzale Michelangelo to watch the sunset over the beautiful city of Florence, and the night was topped off with two scoops of stracciatella flavored gelato.
How has your study abroad experience affected you??
The idea of travelling with no friends, in an unfamiliar country, with no knowledge of the language, terrified me. But I made the decision to go. And doing so completely overturned my understanding of the world. My first study abroad experience instilled a deep desire to see more, experiment more, express myself more, and interact with people who think, act, and live differently than I do. I can't put a price tag on the beautiful experiences I was able to have during both of these unforgettable summers.
Name:
Aleksandra Froelich
Major: Psychological Sciences
Program: Business Studies in London, University of New South Wales, Da Vinci in Italy
Location: London, England; Sydney, Australia, Italy
How would you describe your study abroad experience?? ?
An adventure of a lifetime...The education that I received from studying abroad was priceless. I was immersed in a different culture and learned to appreciate so much of what I had at home and to embrace what was different, new and exciting in my host country. I became part of a world so much bigger than I thought existed. The best however, were the people I met and the long lasting friends I made. People from all over the world, not just whichever country I was in, many of whom I now consider family. I feel like I left a part of my soul in abroad, and will make it a life goal to return.
Why do you recommend study abroad to Purdue Students????
Studying abroad for an entire year was a difficult decision, but it has proven to be an experience of a lifetime. I was able to truly test the limits of who I am, what I could accomplish and how I could assimilate in a place completely different from my normal surroundings. Other than the school, I had no social support net and had to learn to depend on myself. I discovered greater courage, strength of character and a sense of adventure. My political and social views were challenged and I experienced life differently. Travel is the truest form of education. If you have the opportunity to travel abroad, do it. It will truly be the most magical and provocative experience of your college years.
Name:
Cara Birschbach
Major: Mechanical Engineering
Program: Global Leadership in Peru, UC3M GEARE
Location: Peru; Madrid & Barcelona, Spain
How has studying abroad affected your future goals??
Studying abroad really opened my eyes to all the possibilities that are available to me around the globe. I realized that I would love to pursue a career focused more internationally, and would like to live and work abroad one day.
What would you tell to someone on the fence about studying abroad??
DO IT! I can't encourage study abroad enough to prospective students. Go abroad and go for as long as you can! You will always come back wishing you had more time. It will change your life in the best way possible!