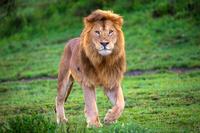 Tanzania is home to more than 35 species of carnivores, including the African lion, cheetah, leopard, and wild dog – all of which are on the IUCN Red List. Study the behavioral ecology and conservation challenges facing these incredible creatures, while observing some of Africa's largest remaining carnivore guilds up close.
Participants visit the Tarangire Lion Project to learn from leading lion researchers and analyze pride population dynamics and individual behavior using radio telemetry and camera trapping data.
You will gain practical skills in the field such as: animal behavior observation, radio telemetry and camera trapping, species identification, wildlife census techniques, basic Swahili language skills, and quantitative and qualitative data collection and analysis.

For more program information, please visit the
program website
. This program is sponsored by:
School for Field Studies
.