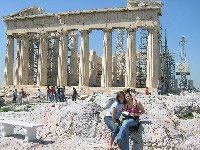 The College Year in Athens (CYA) program offers university-level courses focused on Greece and the East Mediterranean world. At the same time, it specializes in creating a caring learning environment that imparts knowledge by first-hand experience, immediate observation, perception, and enjoyment. Whether you are already immersed in Greek studies and thinking about a career in academia, or seeking to fulfill general education requirements, you will find courses designed to help you achieve your academic goals.
The program's Academic Center, located in Athens itself, includes the library, the lounge, the cafeteria, the computer lab, and the administration and faculty offices. The Center is located next to the Athens Marble Stadium, the Kallimarmaron, where the revival of the Modern Olympics took place in 1896. Under this very same Academic Center, the Olympic 2004 Marathon racers broke the finish line in August 2004.
For more program information, please visit the
program website
. This program is sponsored by:
CYA
.