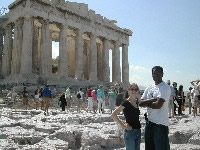 Interested in learning Modern Greek on Paros or experiencing daily life on the island through a service learning project? Would you like to explore how past and present interact in and around the modern city of Athens? How about embarking on a three-week journey to study the most celebrated landmarks in Greek art and archaeology? Students interested in short-term, intensive study abroad are invited to take advantage of College Year in Athens' summer courses, which offer unique, experience-based opportunities for learning.

For more program information, please visit the
program website
. This program is sponsored by:
CYA
.