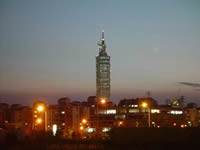 Taiwan is a modern industrialized megalopolis clinging to the fringes of an ancient culture; a string of teeming cities at the feet of a glorious mountain range. The human tide of Taipei will sweep you off your feet, but if you step outside the city limits you'll discover why Taiwan is known as Ilha Formosa, 'the beautiful island'. Taipei is a boisterous and expensive city. About 6 million people live in and around Taiwan's capital, lured by the excitement of a bustling city on the move.

Since its foundation in 1927, the National Chengchi University has enjoyed 75 years of history. After more than four decades, the university has become an all-purpose academic institution consisting of eight colleges: Colleges of Literature, Natural Science, Law, Business, Social Sciences, Foreign Languages, Communication, and International Affairs (the founding of the College of Education is scheduled in 2002).
For more information about the university, visit the university website.

For more program information, please visit the
program website
.