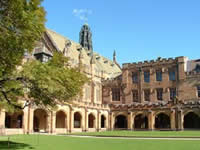 The University of Sydney, founded in 1850, is Australia's first university. Over the past 150 years, the University has built an international reputation for its outstanding teaching and as a centre of research excellence. As one of Australia's leading universities, the University of Sydney is a key member of "the Group of Eight," Australia's major research intensive universities, and the Association of Pacific Rim Universities (APRU).
Joining a club is one of the best ways to get involved at university. During Orientation Week, the front lawn of the Camperdown Campus is covered with the stalls of more than 250 student clubs and societies. Over 40 international student groups also provide social networks and support for students.
"Sydney is Australia's oldest city, the economic powerhouse of the nation and the country's capital in everything but name. It's blessed with sun-drenched natural attractions, dizzy skyscrapers, delicious and daring restaurants, superb shopping and friendly folk. Although it's come a long way from its convict beginnings, it still has a rough and ready energy, and offers an invigorating blend of the old and the new, the raw and the refined. While high culture attracts some to the Opera House, gaudy nightlife attracts others to Kings Cross." –Lonely Planet
For more program information, please visit the
program website
.