Newspaper Articles
Pinterest Contest for International Education Week
Posted: 10-19-2012
By: M Bittinger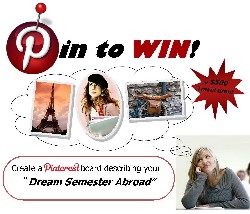 Purdue Study Abroad is holding a Pinterest contest to celebrate International Education Week. Pinterest is a social media website that acts as a virtual pin board. It allows you to arrange & share anything you find on the internet. Individual boards are created for specific topics. In this case, we want you to create a board that depicts your "Dream Semester Abroad."

How to participate:

Follow Purdue Study Abroad on Pinterest
Create a board entitled, "My Dream Semester Abroad," and pin photos of landmarks, culture, food, or whatever helps describe your ideal experience studying overseas. Once complete, e-mail the board's unique URL to sa@purdue.edu, with "My Dream Semester Abroad" in the subject line.
On Friday, November 16th all boards will be reviewed, and the winner will receive a $500 Travel Grant. The announcement will be posted on the Purdue Study Abroad Facebook page, as well as via Twitter (BoilersAbroad). The winning board will be chosen based on creativity, aesthetic value, and the representation of a meaningful educational experience abroad.

Contest Rules:

Only current Purdue students are eligible to win.

The dream destination must be reachable through a current Purdue study abroad program.

At least one pin must come from the Purdue Study Abroad website. Two others must come from our Pinterest boards.

The Travel Grant is only usable for approved Purdue programs.

For more info

Visit: http://pinterest.com/boilersabroad/

Contact: mbittinger@purdue.edu


Reproduced with permission from Purdue University Perspective